20/08/2021
German Premiere of "NOW" with Jim Rakete
With the documentary film "NOW" about young climate activists, Berlin-based photographer Jim Rakete has broken new ground. He presented his committed cinema debut in person on 18 August as a German premiere in Berlin at the Delphi Lux. After several delays, the film will be released nationwide on 26 August 2021 and is a strong reminder of the need for a green transition shortly before the federal elections.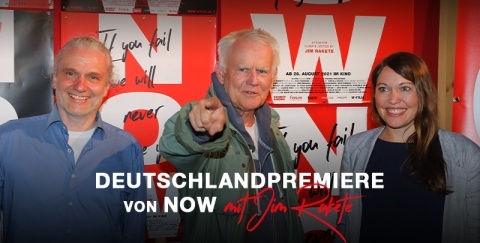 From left: German premiere of "NOW" with distributor Stephan Winkler (W-film), director Jim Rakete and producer Nina Spilger (Starhaus Produktionen). Photo © W-film / Sebastian Semmer
"We need to replace bad habits with good habits"
This was director Jim Rakete's urgent appeal to the audience in the premiere film discussion with film critic Rüdiger Suchsland and producer Nina Spilger from Starhaus Produktionen. Young climate activists from Plant-for-the-Planet and Extinction Rebellion also had their say, and NOW is an impressive memorial to their work. "A very worthwhile visit to the cinema," said filmmaker Volker Schlöndorff, who came as a guest.
The ARD Tagesschau and rbb Abendschau also reported on the premiere.
Special events with representatives of local climate groups such as Fridays for Future and Extinction Rebellion will take place nationwide on 26 August. Dates and information can be found here. In addition, further film screenings with Jim Rakete are planned:
Hamburg Premiere: Wednesday, 25.8., Zeise Kinos, 8pm
Munich Premiere: Thursday, 26.8., Rio Filmpalast, 8pm
Further Links & Downloads
Back to news